MOTILAL OSWAL PORTFOLIO MANAGEMENT SERVICE (PMS)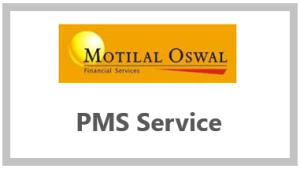 Portfolio Management Service provide tailor made professional service offer to meet the investment objective of various investors. The major benefits of investing in PMS are that it provides Professional and Active management, transparency and superior returns.
PMS can be tricky at times for investors. Motilal Oswal is a very famous and renowned PMS managers in India and has a lot of investors as well as followers who believe in the strong perspectives of the people who are at the top management.
Motilal Oswal is a full-service broker and is listed in the stock market. One of the most renowned Business models of Motilal Oswal is their Portfolio Management Services. They are one of the largest players in PMS & known for their PMS performance. The have wide list of fund managers who look after their PMS business.
Motilal Oswal PMS is widely recognized among HNI investors and has a strong track record of beating market returns. It is created using all available financial instruments like stocks, mutual funds, and debt instruments. The main aim is to maximize returns and minimize the risk, this service is available for individuals as well as institutions.
FEATURES OF MOTILAL OSWAL PMS
Anytime access to the portfolio
'Spending time in market' philosophy rather than 'timing the market'
Long-term Buy and Hold investing style
Professional Management and Complete Transparency
Facility to partially withdraw your profit anytime. 
The PMS house provides Email Update & SMS Update regarding all transaction that is happening in clients account.
MOTILAL OSWAL PMS TYPES
Discretionary PMS: It provides a lot of facilities for clients; the fund manager can add or remove any asset from your portfolio for giving you better return out of that. There is absolutely no need for you to worry about your portfolio.
Non-discretionary PMS: Under this the client takes the whole responsibility of his/her investment portfolio, the fund manager can only suggest the better step for investment and the final decision remains in the hands of clients.
MOTILAL OSWAL PMS STRATEGY
The strategy aims to benefit from the long term compounding effect on investments done in good businesses, run by great business managers for superior wealth creation.
Value Strategy
India opportunities Portfolio strategy
Next trillion-dollar strategy
They work on Large CAP Strategy, Diversified Strategy & Small-Midcap Strategy. All types of Investment strategies available with them.
stocks from multiple sectors are handpicked, which play an active role into the making of the next Trillion GDP.
Also, companies which are most likely to earn 20-25% on its net worth going forward are chosen, the ones, which shall be benefitted from next trillion dollar GDP growth, the most.
The theme is to invest in growing businesses and sectors with bright future and opportunity for better growth.
HNI investors aiming for capital appreciation and generating wealth with a 3-5 years horizon should go for the financial portfolio management services.
Motilal Oswal PMS Returns / Performance
The return rate of Motilal Oswal PMS is extremely good. The broking house is able to beat 10 years Mutual Fund Returns.
The returns for 3 years is around 13%
It is around 12% for 5 years
It is 20% for 10 years
For 7 years it is 17%
Hence it is visible, that the Motilal Oswal is attractive enough to attract customers towards the company.
For any PMS house the minimum investment required for portfolio management services is Rs.25 Lakh.
Motilal Oswal PMS has Investment plans for all ranges. It has Bronze plan which ranges between INR 25 Lakh to INR 50 Lakh. The Silver Plan ranges from Rs.50 Lakh to Rs.1 Crore. The Gold plan is between Rs.1 Crore & Rs.5 Crore while the Platinum plan is for clients with more than Rs.5 Crore investment.
Motilal Oswal PMS Fee Structure or Commission Slabs
Prepaid commission-Commission is paid in advance, before the actual tenure starts
Volume based commission-This type of Fees Structure is dependent entirely on the total number of transaction done by the Fund Manager.
Profit sharing based- they require to pay commission only after earning profit.
Motilal Oswal PMS Charges
Management Fees – This is as per the commission model agreed upon between the client & PMS team.
Upfront Fees – An upfront fees is also charged by motilal oswal pms team. This charge is more like a prepaid value. This charge ranges between 1% – 2% of the Investment amount.
Brokerage Charges – Motilal PMS also charges brokerage on all transactions done by the Fund Manager. The charges is between 0.01% – 0.05% of total transaction value.
Custodian Fee – The PMS house also charge custodian change from its clients. This charges is between 0.3% – 0.4% of Asset Value.
Depository Charges – The depository charges are between 0.15% – 0.2% of Asset Value.
Exit Load Fees – The exit load fees is charged by PMS house depending on the client withdrawal duration & amount that is withdrawn. If the withdrawal takes place within 1 year of portfolio creation the fees is 1.5% – 2% of withdrawal amount. 
Conclusion
Motilal Oswal PMS is one of the best PMS, heir flexible Investment Plans & Commission models do provide a lot of convenience to the clients. Their support system & services are extremely useful & well structured. They have a wide variety of approaches that have given their customers very good results. minimum investment is too high. Customization is possible to meet special or specific requirements of investors